Right to Petition
Real Advocacy for Real People!
With over a decade of congressional insider's insight, Right to Petition provides expert tips and successful strategies to get your voice heard by the right people at the right time, and tells you what mistakes to avoid as you learn how to make a difference.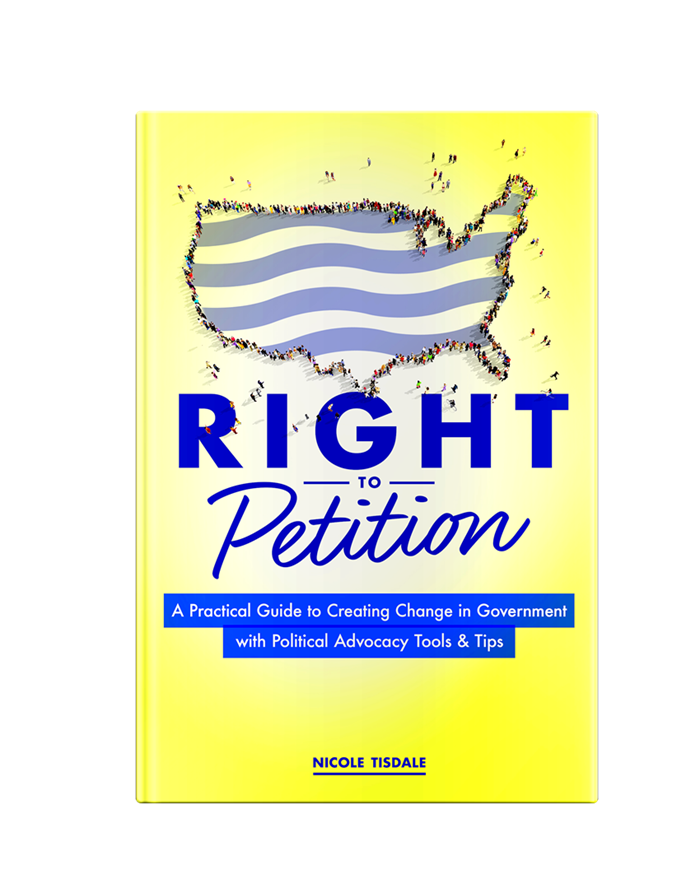 Right to Petition: A Practical Guide to Creating Change in Government with Political Advocacy Tools & Tips
The power is in your hands.
The 1st Amendment guarantees, among other things, the right to petition your government for change. In this great democracy of ours, the power should be in the hands of the people. Unfortunately, too many of us don't know how to navigate the process to communicate and create connections our members of Congress. And even more of us feel frustrated by the political process in general.
But now there's a solution.
In Right to Petition, I break down exactly what you need to do to achieve the results you want. With my background as an attorney and a longtime Congressional staffer, I will walk you through the entire process. You'll discover how to frame your issue, how best to approach your representative, how to build relationships with them, and so much more.
This book is a how-to manual for political advocates, social activists, and voters who want to take action and change public policy no matter your experience level in your local community and Washington, DC.
Right to Petition is for you if you ever:
Wanted to impact change in your community.
Thought your voice or expertise was not being heard in Congress.
Felt confused about how to ask your member of Congress for help.
Were frustrated with Congress's gridlock on the issues you care about.
Right to Petition provides concrete examples and explanations of "asks" you can make to Congress starting today! This book will help you to make tangible changes in your community, become a trusted influencer for public officials, and impact the world. This book is an invaluable resource that you can come back to time and time again.
Right to Petition is your roadmap to Congress. You'll learn:
50+ Congressional "asks" to be used as tools to help make a significant change.
Common mistakes to avoid.
Tips for the best time to make your ask.
Strategies for successfully getting to the right people to make sure your ask is heard and positively received.
Real-life examples from the inside about what works, what doesn't work, and why.
The current political climate has people from all sides looking for someone to properly represent them. With Right to Petition, you will clearly understand how to do so. We all have voices that need to be heard. And with this invaluable guide… you'll be heard loud and clear.
PRAISE FOR NICOLE & RIGHT TO PETITION
"A must-read for any business executive who wants to understand how to get something done (or a bad proposal stopped) in Washington. I have worked in Washington for over 30 years both on the Hill and for a lobbying group and I was surprised by how much I learned from this book. This is the first time I've seen a how-to book written by a Capitol Hill staffer. It is wonderfully complete, interestingly written and should be required reading for every Washington office employee and their CXOs back in HQ. For anyone wishing to get a job on Capitol Hill this book provides a step-by-step complete education.Ms. Tisdale evens the playing ground so those with good ideas will have a chance of seeing them become law. Her book is a step forward and important in ensuring our democracy can respond to the mosaic of interests included in our great nation." – Gary Shapiro, CEO, Consumer Technology Association, producer of CES®
"Nicole's book is very easy to read and thoughtful book chocked with practical advice and excellent strategies to help even the novice navigate their ways through the legislative process. Nicole shares what she has learned from countless internships, and her many years as a Capitol Hill staffer, at the highest level. Her sound advice not only applies to the Congress but can be applied to the state and local levels." -Tola Thompson, Current Chief of Staff, U.S. Congress & Former University VP of Government Relations
"Thank you VERY much for your presentation today! I heard plenty of positive feedback about what you offered. We thoroughly enjoyed hosting you and for all of your work preparing for (and ultimately executing) the presentation." -Matthew Wright, Children's Hospital Association
"A quick note to say that I just looked at our post-conference survey results – and you are trending as the most popular session of the event! Also, I am reading your book and very much enjoy the straightforward, conversational style. I feel like a friend is talking to me." -Public Higher Education Legislative Advocacy Professionals (PHELAP)